DU IBA Executive MBA Admission, Summer 2014.
The Executive MBA Admission Test, Summer 2014 will be held on May 23, 2014 Friday at 10:00 am at IBA, University of Dhaka. The application form can be downloaded from the DU website, our website or collected from the IBA Executive MBA Program Office (3rd Floor, Room No-405).
General Requirements
The admission policy provides a framework for the selection of students to the Executive MBA program on a competitive basis of past academic records, and performances in the admission test (or GMAT) plus an interview. Admission into the program is held three times each year (Fall, Spring, and Summer).
The Executive MBA or EMBA is designed for people with work experience. Minimum 3 years of work experience in any field after completion of undergraduate degree in any discipline is required.
Applicant Eligibility
Job Experience
Minimum 3 years' professional work experience.
Academic Qualifications
Minimum 2 years' Bachelors Degree (any discipline) or equivalent Professional Certification.
At least a 2nd Class or CGPA of 2.5 (4.0 basis) in the Bachelors Program.
For all certificates, equivalence will be determined by the Institute.
Admission Test
Applicants will be required to sit for an admission test, which is administered by IBA in Dhaka. The Admission Test will evaluate the applicant's aptitude in the following two areas:
Language and Communication
Analytical ability
To qualify in the Admission Test an applicant must obtain minimum qualifying marks in each area.
Exemption for GMAT
Applicants with foreign degrees, who have a score of at least 550 in GMAT with minimum 45 percentile in verbal and 50 percentile in quantitative may be exempted from taking the written admission exam. However, they will be required to appear at the interview.
Interview
Applicants will be selected for interview on the basis of their performance in the Admission Test.
Final Selection and Registration
The final selection of a candidate is made on a weighted score of the Admission Test (or GMAT, if applicable) and the interview. Applicants, finally accepted for the program, should obtain the prescribed form for admission to the University from the EMBA Program Office of the Institute and submit the completed form along with 4 passport-size and 1 stamp-size photographs plus other required documents to IBA within the scheduled time. Candidates who have completed the above formalities must then pay the requisite fees as determined by the IBA. Enrolment in the EMBA program is conditional upon completion of all admission formalities including payment of all fees. Selected students with Bachelor Degree from other universities shall be required to submit Migration Certificate, as applicable.
Candidates who fulfill the above-mentioned requirements for admission to the University will be enrolled and registered in classes at the Institute. No student shall be eligible for enrolment in the Institute or be permitted to attend any class unless s/he has completed the above-mentioned admission procedures and has paid all the fees.
Foreign Applicants
International student may apply for admission provided the individual fulfils the admission requirements as laid down for the local students. However, the requirement of personal interview may be waived and in that case evaluation of students will be done on the bases of written records, academic references, writing assignments and online interview.
The University of Dhaka prescribed fee for a foreign student is US$ 2000 per year. However, student from SAARC countries (India, Pakistan, Nepal, Bhutan, Maldives, and Sri Lanka) will be charged an annual fee of US$ 1000 or equivalent Bangladeshi Taka.
Rules & Regulations
The EMBA degree requirement is:
a)Completion of 15 courses (15 x 3 = 45 credit hours)
b)Passing of the comprehensive examination with minimum 60% marks
c)Passing of all courses individually and maintaining a minimum Cumulative Grade Point Average (CGPA) of 2.50
Class Attendance
A student should enroll for 3 courses each semester. Each year will comprise of 3 semesters and each semester will be of 14 weeks duration. Thus a student may complete the program within 5 semesters.
All the courses are not offered every semester. Core courses normally require a minimum of 15 students. Major courses may require a minimum of 6 students.
Grading System
Letter grades are used to evaluate the course performance and other works of a student in a course. A, A-, B+, B, B-, C+, C, C-, and D are considered passing grades. (F)� is the failing grade. The numerical equivalence of the grades as used by the Institute in calculating CGPA is as follows:
| | |
| --- | --- |
| Later grade | Grade point |
| A | 4 |
| A- | 3.67 |
| B+ | 3.33 |
| B | 3.00 |
| B- | 2.67 |
| C+ | 2.33 |
| C | 2.00 |
| C- | 1.50 |
| D | 1.00 |
| F | 00 |
HOW TO APPLY:
The application may be downloaded from the IBA website (www.iba-du.edu) and printed out on separate pages, or collected FREE from the IBA Executive MBA Program Office. The form may also be obtained by mail from the Program Office by sending a self -addressed envelope (10″x8″) with a postage stamp of Tk.50.00.
The filled-in application form along with a Bank Draft / Pay Order for Tk.1500, payable to "Executive MBA, IBA", should be submitted to the Executive MBA Program Office between 9:00 a.m. and 8:00 p.m.
Further information may be obtained from EMBA Program Office, IBA, University of Dhaka, Dhaka-1000.
Details DU IBA Executive MBA Admission, Summer 2014 below: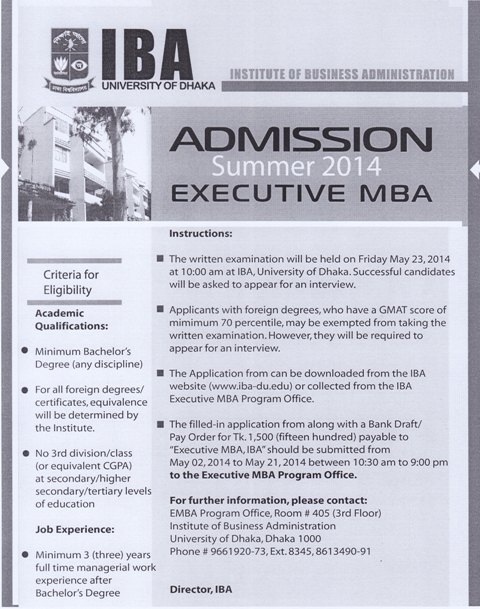 For details about DU IBA Executive MBA Admission, Summer 2014 please visit to http://iba-du.edu
Comments
comments